09.10.2020
How much risk is priced-in ahead of the US election?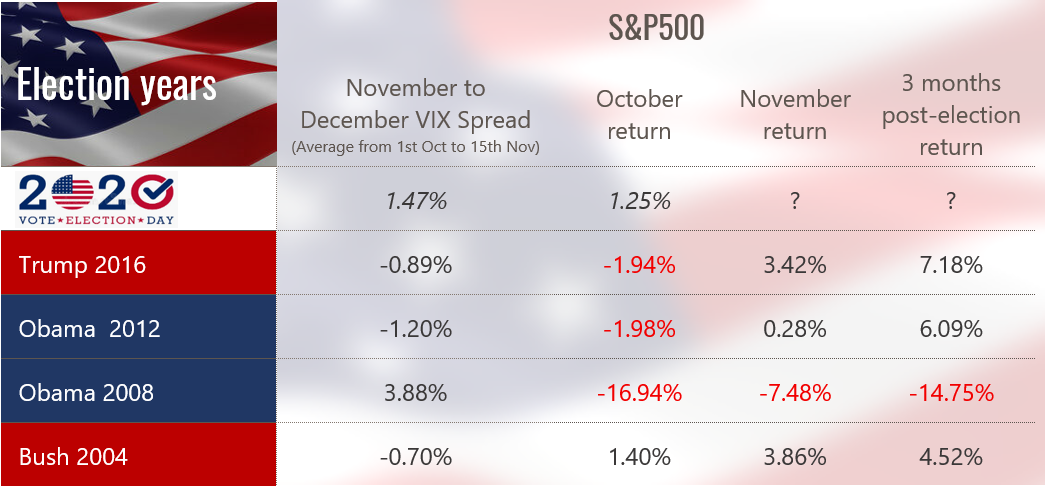 There is no doubt that a US presidential election represents a risk for financial markets and a good way to quantify how much risk is currently priced-in is to look at the forward implied volatility before and after the elections.
For that, the VIX index, a basket of the S&P 500 options volatility, sounds a good barometer.
Looking at the VIX curve, The November expiry is currently trading 1.5% above the December one, reflecting the immediate risk investors are facing post-election (November 3rd) relative to December.
While the 1.5% spread indicates a higher implied risk around and after the election, it does not quantify the absolute level of risk. To put it in perspective, we looked at the average November-December VIX Spread from October 1st to November 15th for every US Election since 2004.
Excluding the US election during the Great Financial Crisis in 2008 where spot volatility was structurally higher than 1, 2 and 3 months forward, it appears that a positive November/December VIX Spread is somewhat unusual. In fact, during the 2004, 2012 and 2016 elections, the November VIX never traded above the December one.
Looking at the return of the S&P in October, November and 3 months after the election, we can observe that it is very difficult to draw any conclusion over a US presidential election from a financial market perspective. If anything and excluding the 2008 election during the crisis, the simple and most direct conclusion would be that a US presidential election after 2000 had a positive impact on the S&P 500 Index one month and 3 months after the outcome.
So how to explain this extra-risk this time? We believe the 1.5% premium in November volatility relative to December likely reflects one single risk: if Biden wins, President Trump might not going to accept it. A sentiment that has been reinforced after the first TV debate of the US elections.
To conclude, history shows that financial markets can easily deal with a republican or democrat president but definitely not with no President after November 4th.
Autres publications
09.11.2020
Newsletter : Peak Uncertainty | November 2020
Cité Gestion is pleased to announce the launch of its November 2020 Newsletter.
Overview and market trend
Macro Update: Covid's second wave: a headwind for the fourth quarter but…
Macro Update: US Election update: Towards the best scenario for financial markets
Equity strategy
Fixed income strategy
Forex and commodities
Lire la Newsletter
30.10.2020
Cité Gestion vise les 5 milliards de francs d'actifs sous gestion l'année prochaine
Basée à Genève, la société a doublé de taille en trois ans. Elle table sur une croissance de 10 à 15% de ses avoirs. Découvrez l'interview de Guy Barbey, à lire dans L'Agefi du 30 octobre 2020
Lire plus
28.10.2020
Colis du cœur : s'engager pour ceux qui ont besoin
Sensibles aux difficultés concrètes vécues par tant de personnes autour de nous, Cité Gestion au sein d'un ensemble de sociétés financières de la place de Genève a pris la décision de soutenir financièrement le travail de la fondation Colis du Coeur.
Lire Plus
23.10.2020
Arrivée de M. W. Leuba et son équipe
Cité Gestion est heureux d'intègrer de nouvelles compétences pour couvrir plus largement le marché européen grâce notamment à la structuration d'un pôle dédié à la péninsule ibérique.
Lire plus
21.10.2020
US Elections: what are the tail risks?
Two weeks ahead of the US elections, Biden's polling lead over Donald Trump is big. Nevertheless, we cannot just file the election as a done deal. The outcome of the US elections could raises two possible tail risks for financial markets.
Lire Plus
03.09.2020
Cité Gestion poursuit sa croissance et nomme 5 Associés
Conformément à sa stratégie de développement et en reconnaissance de leurs succès professionnels avérés au cours des dernières années, Cité Gestion annonce la nomination de Christian Hirt, Charles-Aymeric Hainault, Gauthier Merkli et Christoph Enz en tant qu'Associés de la maison de titres. Cité Gestion confirme également l'engagement de Patrick Voegeli en qualité d'Associé depuis le 1er septembre 2020.
Lire le communiqué
Retour