09.10.2020
US-Wahlen: Welche Risiken sind bereits eingepreist?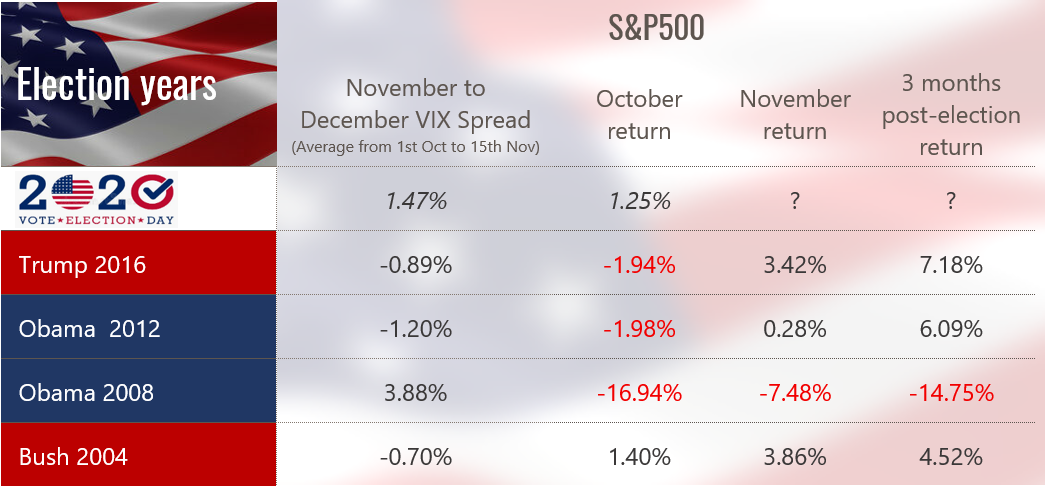 There is no doubt that a US presidential election represents a risk for financial markets and a good way to quantify how much risk is currently priced-in is to look at the forward implied volatility before and after the elections.
For that, the VIX index, a basket of the S&P 500 options volatility, sounds a good barometer.
Looking at the VIX curve, The November expiry is currently trading 1.5% above the December one, reflecting the immediate risk investors are facing post-election (November 3rd) relative to December.
While the 1.5% spread indicates a higher implied risk around and after the election, it does not quantify the absolute level of risk. To put it in perspective, we looked at the average November-December VIX Spread from October 1st to November 15th for every US Election since 2004.
Excluding the US election during the Great Financial Crisis in 2008 where spot volatility was structurally higher than 1, 2 and 3 months forward, it appears that a positive November/December VIX Spread is somewhat unusual. In fact, during the 2004, 2012 and 2016 elections, the November VIX never traded above the December one.
Looking at the return of the S&P in October, November and 3 months after the election, we can observe that it is very difficult to draw any conclusion over a US presidential election from a financial market perspective. If anything and excluding the 2008 election during the crisis, the simple and most direct conclusion would be that a US presidential election after 2000 had a positive impact on the S&P 500 Index one month and 3 months after the outcome.
So how to explain this extra-risk this time? We believe the 1.5% premium in November volatility relative to December likely reflects one single risk: if Biden wins, President Trump might not going to accept it. A sentiment that has been reinforced after the first TV debate of the US elections.
To conclude, history shows that financial markets can easily deal with a republican or democrat president but definitely not with no President after November 4th.
Mehr Publikationen
16.02.2021
Herzlich willkommen bei Frau Laetitia Glauser Vulliemin
Cité Gestion freut sich, Frau Laetitia Glauser Vulliemin in unserer Filiale in Lausanne begrüssen zu dürfen.
Mehr
11.02.2021
Cité Gestion und die Zermatters
Since December 2020, Cité Gestion is delighted to be, for the next 4 years, the main partner of the ESS (Ski and Snowboard Schools) and of the Zermatt guides who are grouped together within the Zermatters.
Mehr
27.01.2021
Cité Gestion AtonRâ Smart Innovation Startegy
Zusammen mit dem Genfer Vermögensverwalter AntonRâ hat Cité Gestion im Dezember 2019 ein aktiv gemanagtes long-only Zertifikat in US-Dollar lanciert, welches seither eine starke Performance erzielt hat.
Mehr
22.01.2021
Cité Gestion unterstützt den Schweizer Skirennsport
Seit 2020 unterstützt Cité Gestion den Schweizer Alpin-Skirennfahrer Pierre Bovet. Seine Karriere ist Sinnbild einer durch Unabhängigkeit und Ausdauer gewonnenen Freiheit.
Mehr
22.12.2020
Cité Gestion: Wachstum in Osteuropa
Cité Gestion begrüsst Elena Moser sowie Irina Dmitrevskaia und Evgeni Altaev als neue Relationship-Manager in ihrem Team.
mehr
22.12.2020
Cité Gestion setzt Wachstumskurs fort und ernennt 3 neue Partnerinnen
Cité Gestion setzt ihren Wachstumskurs fort und ernennt Virginie Constance, Manuela Rossire und Elena Moser per 1. Januar 2021 zu neuen Partnerinnen des Unternehmens.
Mehr
Zurück